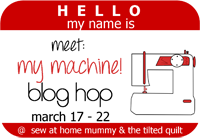 I have been noticing all over blogland bloggers sharing their sewing machines as well as their sewing space with
Stacey
as the hostess for this fun little hop so I decided I would play along , after all I love my sewing machines , each and every one of them . How many you might ask , well I will only count those in this room at this time so lets see ....10 ,oops forgot my serger so make that 11. Did I hear a gasp , well truth be known there are more but for now I will share the main sewing machines that I use on a regular basis.
Next is my favorite machine the Bernina 440 QE , I had wanted this machine since they were first introduced and my hubby bought this for me about 2 years ago .
Here it is all covered up with a sewing machine cover I made just after I got the machine , I wanted to be sure to protect it.
If I could have any machine that I wanted , oh that would be the Bernina 850 , all that throat space and all those features but unless I win the lotto that is not about to happen ;-)
So now you have seen what machines I use on a regular basis I will show you some machines that are simply ornaments in my room , some gifts from our son Roger and some from Bill , each one special but none of them are used .At the time Roger was picking up these vintage machines it was common to find them for $10-15 but that doesn't happen anymore , they now put them up for auction at the Thrift stores .
Yeah they are at the top of my bookcase , the first in this line up is a vintage Kenmore ,next a Singer then a pretty blue White machine .Oh the red box is actually a little mend stitcher , can't imagine it did much but it looks good.
The green machine is a Singer ,(love that color) and the black is a machine from Macy's and Co. .
This Singer is slightly bigger than the previous machine , adorable too :-)
I also have a Husqvarna serger but did not bother to photograph it and out in my entry is a treadle machine which was my husbands grandmothers a real special machine. I learned to sew on a Singer Featheweight which was my Mom's and my sister now owns it . My first machine was a Kenmore set in a lovely cabinet but I no longer own it , it was a great machine and I am sure is still working well today .
Would you like to see where I store my fabric and where I work from .Ok
Sharon
, she showed us her storage idea for scraps . I had this large cookie jar that wasn't getting much use these days with our boys all grown and gone so I followed
Sharons'
idea and it is now there to catch any squares I cut from left over fabrics when doing a project. The two boxes on the end hold postcards , the bottom one is cards I have received and the top cards that I have made ,I love making and sending postcards. Above this and to the left are shelves of various quilt books and magazines so you might say my room is filled with creativity just waiting to happen .Why not join in on the fun and share your sewing machines with us , you can link up
here
.,it is happening all week so come on we would love to see your sewing space.
Thanks for stopping by on this blustery Monday , winter is really hanging on here so it is a good day to quilt .
hugs Sheila